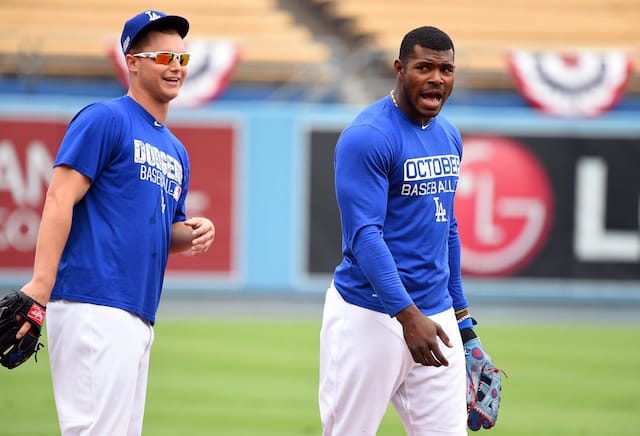 Of the three positions, center field is the most predictable: it's Joc Pederson's world. Criminally underrated by most because of his low batting average (.246), Pederson posted 3.6 WAR last season thanks in large part to 25 home runs, solid defense and an .847 on-base plus slugging percentage.
That brings us to right field, where the mercurial Yasiel Puig still resides. It's amazing to think we're just a few months removed from a "Yasiel Puig will never play for the Dodgers again" sentiment. And yet, Puig is here and rumors have all but disappeared.
And that's a good thing. For all the flack he got, Puig was still an above-average player last season despite playing just 104 games. With clubhouse reports indicating there was improvement in Puig's maturity level as the postseason unfolded, he's a safe bet to be the team's starting right fielder when 2017 begins.
Justin Turner and Dodgers president of baseball operations Andrew Friedman recently spoke optimistically of the 26-year-old.
In looking at the big picture, the outfield remains one of the Dodgers' strengths. All three projected starters (Toles, Pederson, Puig) are five-tool players loaded with potential.
Add in a solid platoon mate (Thompson) and some veteran depth (Ethier), and this group figures to factor prominently in the team's bid for a fifth-straight National League West crown.
Previous installments of "State of the Dodgers" series include analysis of the 40-man roster, starting rotation and bullpen.