To further support coronavirus (COVID-19) relief efforts throughout California, Baseballism and the Justin Turner Foundation partnered to create the '#MoonOnAMission' collection. The design is based on Justin and Kourtney Turner's 3-year-old miniature-pinscher, Moonshine.
"It was a proud dog mom moment for me," Kourtney told DodgerBlue.com. "Although I thought I would get a Baseballism line before she did, but it's cool."
The limited edition products will include a dad cap, fitted cap, women's tank-top, men's t-shirt and bandana. In an ode to the back of Turner's jersey, the t-shirt includes a streak that resembles pine tar on the left shoulder.
The collection launches Saturday at 9 a.m. PT, with $10 from every purchase being donated to the Justin Turner Foundation for COVID relief. Baseballism has long supported the Turners, which made for an easy decision in partnering with the retailer on a special line.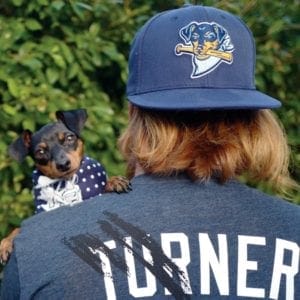 "We always get comments on social media about our foundation hats and shirts," Justin said. "It's always good to work with them. They donate everything to us: all the hats and shirts for the marathon and golf tournament, and they buy into our tournament on top of that.
"They've never asked for anything from us, so to be able to partner with them in a time of need and benefit the foundation at the same time, it was the perfect match."
About the Justin Turner Foundation
Justin and Kourtney founded the Justin Turner Foundation in 2016, with a mission to support homeless veterans, children (and their families) battling life-altering illnesses and diseases and various youth baseball organizations.
The foundation has closely worked with the L.A. Dream Center, supporting a veteran's floor and in May 2018 opening the first ever home for female veterans. Justin and Kourtney also make regular trips to visit patients at Children's Hospital Los Angeles, where the couple and the Justin Turner Foundation were recently added to the prestigious Spotlight Wall.
Earlier this month, they were recognized by the Dream Center, which renamed a key part of its campus to the Justin and Kourtney Turner Food Bank.
Have you subscribed to our YouTube channel? It's the best way to watch player interviews, exclusive coverage from events, participate in our shows, and more!