The Los Angeles Dodgers begin their final homestand of the 2016 season on Monday night, and with that comes the countdown to Vin Scully's Hall of Fame career. Scully is set to call 10 of the remaining 13 games.
He'll conclude his 67th season with the Dodgers at AT&T Park on Sunday, Oct. 2. The date is a memorable one as Oct. 2, 1936 resonates for when Scully first became enamored with the New York Giants and the Polo Grounds.
But before reaching the finish line, Scully has seven home games on the docket, and though he wishes otherwise, the days ahead are filled with multiple honors.
Complete details and promotional items for Vin Scully Weekend
Beginning with Monday's series opener against the San Francisco Giants, this week's version (Sept. 19-24) of Dodger Insider magazine is a tribute to Scully.
Scully's life and career are highlighted in the magazine that will be distributed at auto gates and via Fan Services booths: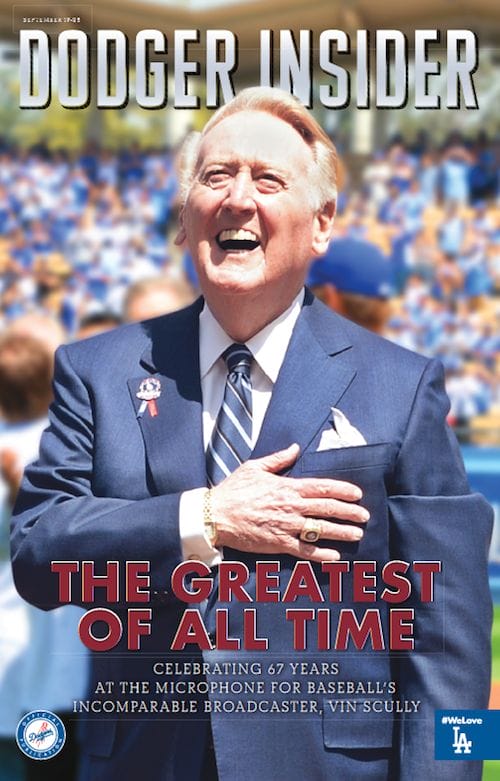 Jon Weisman, director of digital and print content for the Dodgers and the architect of Dodger Insider magazine, also assembled a commemorative edition to be distributed on Sunday, Sept. 25:
The first 50,000 fans in attendance for the Dodgers' final home game will receive the special edition magazine. Weisman's work is part of Vin Scully Weekend, which begins Friday with Vin Scully Appreciation Night.
On Saturday, the first 50,000 fans in attendance will receive a limited edition commemorative coin. Each coin is individually numbered and features an image of Scully and his signature greeting.
On Tuesday, a Vin Scully bobblehead will be distributed to the first 40,000 fans.