The Los Angeles Dodgers announced the first 50,000 fans in attendance for Friday's game against the Colorado Rockies will receive a Vin Scully letter of dedication to fans. The letter puts a finishing touch on what's already expected to be an emotional evening.
Pregame ceremonies to honor Scully are scheduled to begin at 6:30 p.m. PT. Auto gates open at 4:10 p.m., stadium gates will open at 4:40 p.m., and fans are encouraged to arrive early. The festivities will begin with a video tribute narrated by Bob Costas, and include an on-field celebration of Scully's career, which will emceed by Dodgers broadcaster Charley Steiner.
Los Angeles Mayor Eric Garcetti, Hall of Famer Jaime Jarrín, Major League Baseball Commissioner Rob Manfred, Dodgers chairman Mark Walter and Hall of Famer Sandy Koufax are among those who will speak. Scully will be joined on field by his wife, Sandra.
Scully's tribute will be broadcast live on AM 570 KLAC and televised live on KTLA, SportsNetLA and on SportsNetLA's Spanish-language telecast. Friday's contest is the first of Scully's final six games that will be simulcast on KTLA.
In addition to the pregame ceremonies, this week's Friday Night Fireworks will be set to the top calls of Scully's career. Vin Scully Appreciation Day is part of Vin Scully Weekend, which includes a 39-millimeter solid bronze Scully limited-edition commemorative coin coin being distributed to the first 50,000 fans in attendance on Saturday.
The celebratory weekend concludes Sunday with the first 50,000 fans in attendance receiving a commemorative edition of Dodger Insider magazine celebrating the life and career of Scully. The Hall of Fame announcer also graces the cover of the current issue of Dodger Insider magazine.
"No tribute we could conjure could do justice to the gifts Vin has presented the Dodgers during the course of his unmatched career," Dodgers executive vice president and chief marketing officer Lon Rosen said.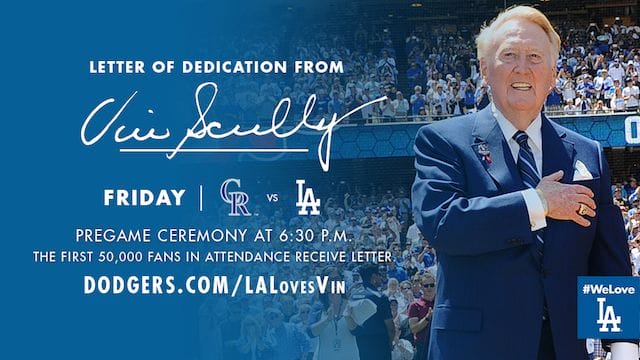 "However, we believe we have created a weekend that will wholeheartedly honor Vin and enable fans to demonstrate their appreciation for a man who has meant so much to baseball and to all of us. Vin's putting poetry to baseball has connected him to our fans for nearly seven decades, his legacy will carry on for decades longer and will make him part of Dodger baseball forever."
Tuesday was Vin Scully Bobblehead Night at Dodger Stadium and it drew a record crowd. The 53,621 announced attendance was the largest regular-season figure for a Major League game since Aug. 30, 2012 — the first Vin Scully bobblehead game.
The organization played a tribute video Tuesday night that featured current and former Dodgers sharing what Scully has meant to them.