The Los Angeles Dodgers open a fourth straight pursuit for a World Series on Friday when they face the Washington Nationals in Game 1 of the National League Division Series. First pitch at Nationals Park is scheduled for 2:38 p.m. PT.
Game 2 of the NLDS matchup is set for Saturday at 1:08 p.m. PT. The El Compadre location in Echo Park, Calif., will host a watch party for the first two games of the NLDS. Raffles, prizes and drink specials will be available both days.
Proceeds from the event will benefit the Justin Turner Foundation. In February, Turner hosted the first annual Justin Turner Golf Classic. All proceeds raised raised supported The Dream Center's Veterans Program.
Turner is renowned for his charitable work in the Los Angeles community, which prompted El Compadre to move to unite Dodgers fans for the playoffs while supporting a great cause.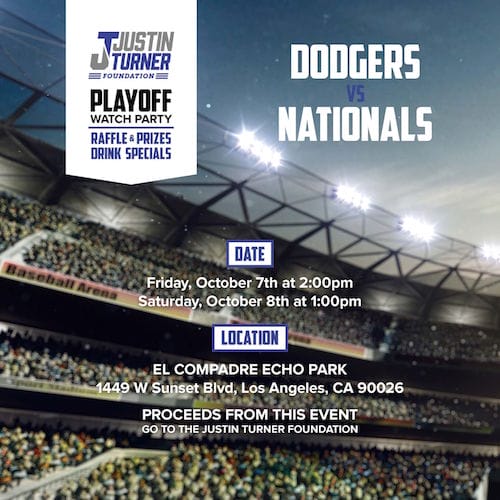 Turner was voted by his teammates as the club's nominee for the 2016 Marvin Miller Man of the Year Award. He then was named a finalist via fan voting.
The Marvin Miller Award is presented annually to the player "whose on-field performance and contributions to his community most inspire others to higher levels of achievement."