The Los Angeles Dodgers went into the 2021 season as the consensus favorite to repeat as World Series champions and unsurprisingly were the most-bet MLB team, according to data compiled by Action Network.
The Dodgers also were the most-bet sports team in California, Nevada and West Virginia. That's despite sports gambling not yet being legal in their home state.
The Phoenix Suns were the sports team most bet on in general as they led the way in 19 states. The Boston Red Sox were next on the list (five states), followed by the Kansas City Chiefs (four), Green Bay Packers and Atlanta Braves (three each), Philadelphia 76ers and Houston Astros (two each), and the Portland Trail Blazers, Utah Jazz, Denver Nuggets, Milwaukee Bucks, New York Knicks, Brooklyn Nets, Chicago White Sox, Cleveland Browns and Arkansas Razorbacks (one each).
The NBA was the most-bet league, which Action Network attributed to playoff games taking place in the middle of summer. The Minnesota Vikings, meanwhile, were the most profitable team for users of the platform.
The L.A. Lakers, on the other hand, lost bettors the most money last year.
Ke'Bryan Hayes overturned home run against Dodgers ranked third "worst beat" of 2021
Action Network also compiled a list of the worst beats from 2021, with Pittsburgh Pirates third baseman Ke'Bryan Hayes' overturned home run against the Dodgers ranking No. 3.
At least two people placed a bet that a run would be scored in the first inning of the series opener between the Dodgers and Pirates on June 8. It appeared to be a winner as Hayes lifted a fly ball down the right-field line that cleared the high fence at PNC Park for a solo home run off Walker Buehler.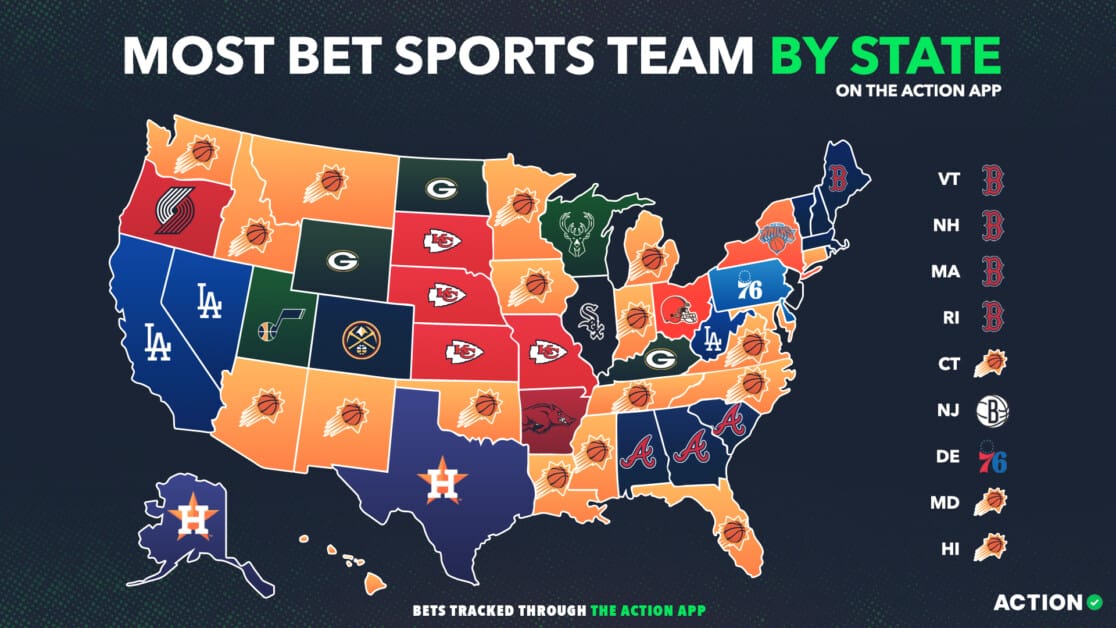 Hayes' fly ball not only just cleared the fence but hit off the base of the foul pole. He initially broke out of the box like it would remain in play before breaking into a home run trot.
Meanwhile, the Dodgers threw the ball to Max Muncy and had him step on first base before challenging the homer. The initial belief was the challenge focused on whether the ball remained fair. However, umpires came out of the review and gestured Hayes was out.
MLB rule 5.09(c)(2) states, "Batter hits ball out of park or ground rule double and misses first base (ball is dead) — he may return to first base to correct his mistake before he touches second but if he touches second he may not return to first and if defensive team appeals he is declared out at first."
The overturned home run was changed to a fly out that went Buehler to Muncy in the box score. Buehler wound up completing a perfect first inning on just eight pitches.
Have you subscribed to the Dodger Blue YouTube channel? It's the best way to watch player interviews, exclusive coverage from events, participate in our shows, and more!