Spend any amount of time around Los Angeles Dodgers third baseman Justin Turner, and his generosity and kindness are readily apparent. Both traits were so naturally on full display during the second annual Justin Turner Golf Classic.
In partnership with The L.A. Dream Center, the Justin Turner Foundation organized the tournament to benefit the Dream Center's Veterans Program and kids and families affected by illnesses and diseases. Multiple of Turner's Dodgers teammates were on hand, including Adrian Gonzalez, Joc Pederson and Yasiel Puig.
But the guests of honor unquestionably were 9-year-old Luke Lang and his family. Lang was diagnosed with acute lymphoblastic leukemia in March 2013, and on the first day he was cleared to leave his house, attended a New York Mets game at Citi Field that September.
Standing on the field for Mets batting practice, it was then that Lang first connected with Turner. Bracelets with "Love for Luke, Losing is Not An Option" caught Turner's attention and after learning of Lang's story, gifted him an autographed baseball bat.
"They just formed a bond from that moment," Richard Lang, Luke's father, said. "Justin has been an amazing, amazing friend to my son and my family." The Langs, natives of Long Island, N.Y., enjoyed the past weekend in Los Angeles, courtesy of Turner.
They attended FanFest at Dodger Stadium, then spent Sunday at Universal Studios Hollywood. The family previously visited Los Angeles in September 2015 when Turner handpicked Luke to throw out the ceremonial first pitch on his bobblehead night.
"He could've given that to anybody. It's an amazing thing," said an emotional Richard Lang. "I always say, 'It's not Justin Turner, No. 10 from the Los Angeles Dodgers. It's Justin. Luke and Justin.' The friendship, bond and love that Justin has for my sons and family, there truly are no words."
For as much joy Turner has provided through his foundation for the Langs and others in need, he equally appreciates the bonds that have been forged. "He's an unbelievable young man. His family is remarkable, so positive and full of energy," Turner said.
"That whole relationship has been amazing. When [the Dodgers] go to New York, we go out and see them, go to dinner, go to lunch. The relationship keeps growing and growing and growing."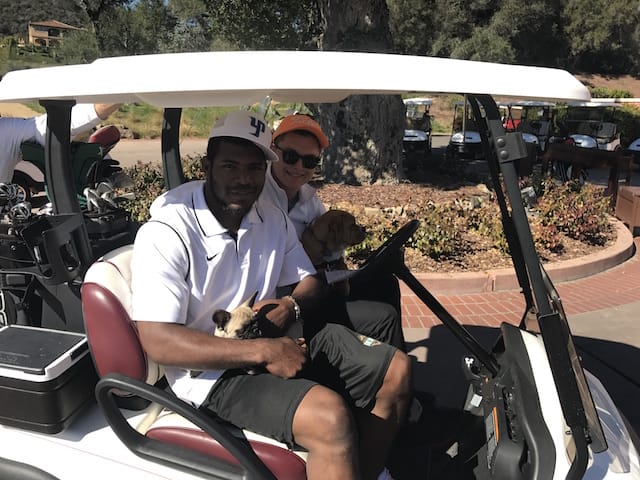 Turner is one of multiple Dodgers who provides for those in need through charity. Puig recently established his foundation and hopes to hold an event similar to Turner's golf classic in the coming weeks.
"I'm here to have fun with Justin Turner and the rest of my teammates, and help him with the community," Puig said. "He wanted to make this event, and I wanted to be part of it." While the 26-year-old outfielder hopes to unite teammates, fans and donors alike, it's unlikely to be with a golf tournament.
"I'm not too good (at golf)," Puig said.
As for Luke Lang, he took his last chemo therapy pill on Sept. 20, and received positive results last month on his most recent blood work. Lang's day began by teeing off the ceremonial first drive, and concluded with him receiving the Justin Turner Foundation Perseverance Award.