When Nike took over the NBA apparel contract, it implemented sweeping changes that did away with traditional thinking for home and away uniforms. In its place, Nike designed uniforms that teams could wear at any time.
Now the sportswear company is poised to assume control of MLB on-field uniforms and apparel, beginning with the 2020 season. "We're thrilled to bring more innovation and creativity to Major League Baseball and the incredible athletes who play the game," VP/GM of Nike North America Tom Peddie said when the 10-year partnership was announced in February.
"This is an exciting time for baseball, and we look forward to partnering with MLB to grow the sport both across America as well as around the globe."
While there hasn't been any indication Nike will look to overhaul uniforms like it did with the NBA, it was a topic of discussion for the DodgerBlue.com staff.
The Los Angeles Dodgers have some of the most pristine and recognizable uniforms in professional sports. But is there room for an alternate to be incorporated?
The Dodgers are known for having some of the most iconic uniforms in baseball, and that shouldn't be discounted when considering new uniforms. However, an alternate jersey that helps honor the Dodgers' history would be appropriate.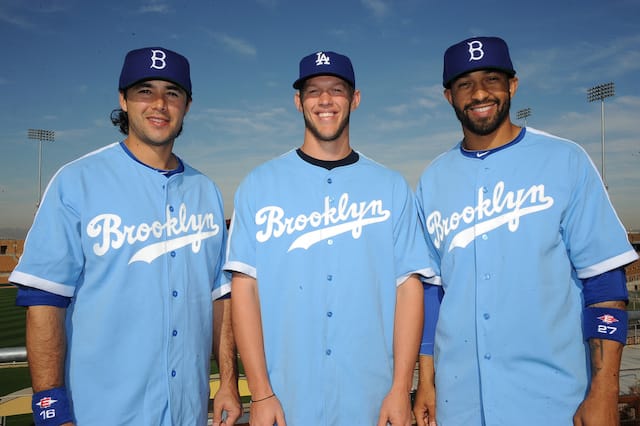 A blue jersey, probably either the light blue Brooklyn ones or the blue 'LA' alternate that was worn in a road game during the 1999 season, would be a good once-a-month option. Six times per year would be enough to keep the jerseys fresh, but still prominent enough to center promotional material around them, at least from a team perspective.
Daniel Starkand (@DStarkand)
I would definitely be in favor of the Dodgers adding in an alternate jersey. If I had a say in what that would look like, it would be similar to the blue ones the team wears during Spring Training, but maybe a little nicer materials and quality.
I think the biggest key with alternate jerseys, especially for a team like the Dodgers that already have great home and away uniforms, is to not overwear them. So maybe just a handful of times during the season on Sunday home games or something along those lines.
Matt Borelli (@mcborelli)
With Nike taking over the MLB apparel contract next season, I wouldn't mind the idea of the Dodgers wearing a new alternate jersey for a few select games.
The current Dodgers uniforms are easily among the best in baseball, so any potential additions would have to be distinctive from the white tops at home and road grays.
Though it would stray from tradition, I think a Dodger blue jersey makes the most sense. This kind of style would be utilized sporadically, preferably for Sunday home games only. The rest of the season would ideally consist of the regular home and away uniforms.
Matthew Moreno (@MMoreno1015)
I also would not be opposed to the Dodgers incorporating some sort of alternate jersey, with the caveat that it's only for home games. My simple way to go about that without completely disrupting their iconic look is improving the blue jersey worn for Spring Training games.
As it stands, the team technically has two options for road contests — grey "Dodgers" and "Los Angeles" scripts — so adding another jersey for home games isn't all that radical of a concept.
Jeff Spiegel (@JeffSpiegel)
Look, nobody is a bigger fan of weird jerseys than me. I'm an Oregon Ducks fan. I love the nickname jerseys. I love just about everything outside-the-box when it comes to sports jerseys, and yet the idea of the Dodgers tweaking their jerseys scares me to death.
Their jerseys are literal perfection. The blue. The white. The cursive. The L.A. Pure perfection. In a lot of ways, it's like Dodger Stadium.
I hear people from San Francisco, etc., talk about how awesome their new stadiums are, and yet we all know that no new stadium can compete with the classics. Same goes for the jerseys. Call me old fashioned, but I hope the Dodger jerseys never change. Ever.
Have you subscribed to our YouTube channel? It's the best way to watch player interviews, exclusive coverage from events and more!