The long, national nightmare is over. The Los Angeles Dodgers found their second baseman on Monday in the form of Logan Forsythe. Unfortunately, the cost was right-hander Jose De Leon. Yes, prospect-huggers, I feel your pain.
Forsythe was originally drafted by the San Diego Padres in 2008. After making his MLB debut in 2011 and scuffling a bit, he was acquired by Tampa Bay in a 2014 trade made by none other than current Dodgers president of baseball operations Andrew Friedman.
Friedman at the time was in his tenure as Rays general manager, which concluded in October of the same year he traded for Forsythe.
The versatile infielder broke out in 2015 and produced a bWAR of 5.0. He followed that up with a 3.4 bWAR last season and hit a career-high 20 home runs.
Meanwhile, De Leon was drafted in the 24th round in 2013 and burst onto the scene the following summer, racking up strikeouts like they were going out of style. From 2014-16, De Leon struck out 393 batters in 277.2 Minor League innings.
He made his MLB debut in September of last season and tied a Dodgers' rookie record with nine strikeouts in his first big league game.
So, who won the trade? That's what matters, right? Well, right now it looks like both teams won.
The Rays got a young, cost-controlled arm with significant upside, and the Dodgers netted immediate help to fill their biggest need. But let's dig a little bit deeper.
In Forsythe, the Dodgers are getting someone with two years of team control. He's signed for a very affordable $5.75 million this season and has an option for $9 million next year with a $1 million buyout.
Over the past two years, Forsythe has averaged 3-4 wins above replacement, depending on which metric you're looking at. Finding that type of production for that price in this market is nearly impossible.
While Forsythe exclusively played second base last season, he has experience at all four infield positions as well as limited innings in left and right field. Defensively, Forsythe was worth eight runs above average at second base in 2015 and one run above average last year.
It's safe to assume the Dodgers will turn a few more double plays in 2017.
Not only does Forsythe fill the team's biggest hole on defense, he also fills one on offense by being able to hit left-handed pitching. Over his career Forsythe has posted a 127 wRC+ against southpaws. That will be a welcomed addition after the Dodgers posted an MLB-worst 72 wRC+ against lefties last season.
Is Forsythe's production worth six years of De Leon? It's difficult to say. De Leon has put up video-game numbers in the minors and showed swing-and-miss stuff in the Majors, but he's dealt with injuries each of the past few seasons and his velocity has taken a step back.
Add to that the Dodgers' pitching depth. Los Angeles would have had more starters than rotation spots this season even before Rich Hill was re-signed. Clayton Kershaw, Hill, Kenta Maeda, Scott Kazmir, Brandon McCarthy and Julio Urias were likely higher on the depth chart than De Leon.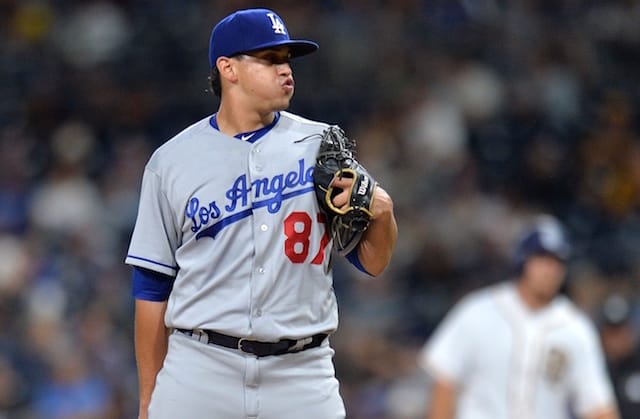 Sprinkle in Wild Card such as Hyun-jin Ryu, Brock Stewart and Ross Stripling, and it gets even more complicated. It's hard to imagine De Leon breaking camp with the Dodgers, though having him in the Minors to replace an injured starter would have been a nice luxury.
Either way, the Dodgers aren't short on arms, and dealing from a strength to fill a weakness is Trading 101. Of course, none of this will matter if De Leon goes to Tampa and dominates. That could happen.
He could also settle in as a No. 4 starter, and the Rays would probably be content with that too. But that's the point. No one really knows what the 24-year-old is right now. He's not an ace or a bust, quite yet.
The Rays can gamble on a pitcher like De Leon, while the Dodgers' impetus is to win now. And while trading young, promising players is always hard to swallow, the emergence of Yadier Alvarez and Walker Buehler may have made the decision to part with De Leon a little more palatable.
So, as scorching as some of the takes might be (looking at you, Delino DeShields for Pedro Martinez 2.0), understand that trade deal makes sense for both clubs in different ways.
The Dodgers are better now and the Rays are better three years from now. But fret not, fellow prospect-huggers. There is still plenty of talent in the Dodgers' system to get excited about.
You can listen to Jared on the weekly Dugout Blues Podcast