FOCO released a new Los Angeles Dodgers bobblehead of Mookie Betts, with the All-Star right fielder available in two limited-edition 'bighead' models.
Both versions stand nearly 10 inches tall and will not be restocked once quantities sell out. Such was the case with 'bighead' bobbleheads of Freddie Freeman and Julio Urías, and traditional versions of Betts for Spring Training and the 2022 MLB All-Star Game.
The standard 'bighead' features Betts in the Dodgers home uniform, while the variant version has him in the City Connect jersey. The standard Betts 'bighead' bobblehead limited to 144 units, and there are only 72 available of the Dodgers City Connect version.
Both bobbleheads have Betts set atop a base with his name across the front and trademark Dodgers logos.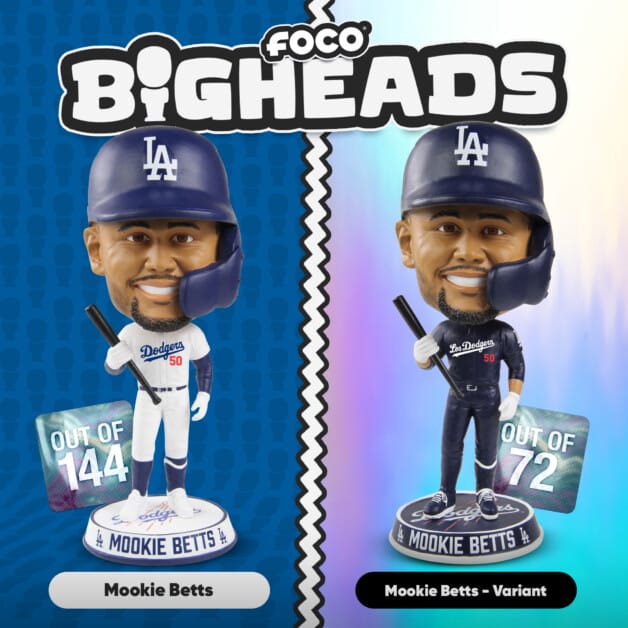 The 30-year-old is entering his fourth season with the Dodgers. In July 2020, the Dodgers signed Betts to a 12-year, $365 million contract extension.
While Betts was part of a World Series-winning roster in 2020, he's now expected to be one of the leaders in the Dodgers clubhouse after the roster underwent significant turnover during the offseason.
Mookie Betts, Team USA playing for WBC championship
Betts has been away from Dodgers Spring Training for nearly the past two weeks as he accepted an invitation from captain Mike Trout to play for Team USA in the 2023 World Baseball Classic.
The United States advanced as the runner-up from Pool C in Phoenix, and defeated Team Venezuela and Cuba to reach the WBC championship game. Team USA faces Japan on Tuesday night as they look to repeat as champions.
Betts has been integral to their success, playing stellar defense in right field and helping set the tone from the leadoff spot of the lineup.
Have you subscribed to the Dodger Blue YouTube channel? Be sure to ring the notification bell to watch player interviews, participate in shows and giveaways, and stay up to date on all Dodgers news and rumors!