With the Chicago White Sox and Los Angeles Dodgers entering their respective 10th year of Spring Training at Camelback Ranch, a commemorative logo was unveiled and stadium improvements were announced.
The most notable of which is the addition of a high-definition videoboard that will now accompany the scoreboard beyond the berm in right-center field. Previously, fans were limited to watching replays on TVs affixed on the concourse level of Camelback Ranch.
Additionally, two 100′ shade structures are being installed along the first-base concourse (visitor's/White Sox side). They will provide fans with a needed break from the sun during the several afternoon games this spring.
The Dodgers host the White Sox on Friday, Feb. 23, in their 2018 Cactus League opener. Los Angeles is due to play 17 of 30 Cactus League games at Camelback Ranch, including 15 as the designated home team.
Tickets for games at Camelback Ranch start as low as $10. Season tickets, mini-plans, group tickets and suites are all available now at www.dodgers.com/spring or by calling (623) 302-5099. Single-game Spring Training tickets go on sale on Friday, Jan. 5.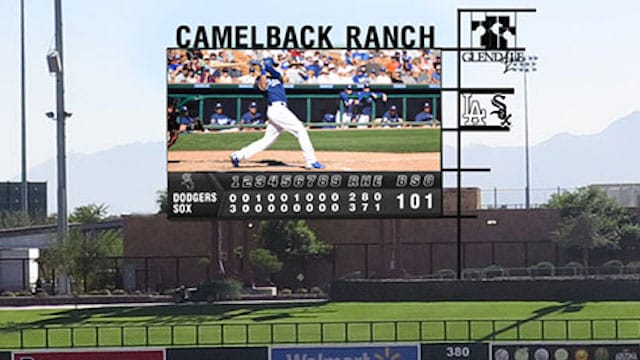 Dodgers pitchers and catchers are due to report for Spring Training by Tuesday, Feb. 13, with position players expected in camp five days later. The Dodgers will hold their first full-squad workout on Friday, Feb. 23.
Dodgers complete 2018 Spring Training schedule included
| Day | Date | Opponent | Location | Time (local) |
| --- | --- | --- | --- | --- |
| Friday | Feb. 23 | White Sox | Glendale | 1:05 p.m. |
| Saturday | Feb. 24 | Giants | Glendale | 1:05 p.m. |
| Saturday | Feb. 24 | @ Royals | Surprise | 1:05 p.m. |
| Sunday | Feb. 25 | @ Mariners | Peoria | 1:10 p.m. |
| Monday | Feb. 26 | @ Rangers | Surprise | 1:05 p.m. |
| Tuesday | Feb. 27 | Rangers | Glendale | 1:05 p.m. |
| Wednesday | Feb. 28 | @ San Diego | Peoria | 1:10 p.m. |
| Thursday | March 1 | Indians | Glendale | 1:05 p.m. |
| Friday | March 2 | @ White Sox | Glendale | 1:05 p.m. |
| Saturday | March 3 | Diamondbacks | Glendale | 1:05 p.m. |
| Sunday | March 4 | @ Giants | Scottsdale | 1:05 p.m. |
| Monday | March 5 | Indians | Glendale | 1:05 p.m. |
| Tuesday | March 6 | @ Cubs | Mesa | 1:05 p.m. |
| Wednesday | March 7 | @ Angels | Tempe | 1:10 p.m. |
| Thursday | March 8 | @ Indians | Goodyear | 6:08 p.m. |
| Friday | March 9 | Royals | Glendale | 1:05 p.m. |
| Saturday | March 10 | Cubs | Glendale | 7:05 p.m. |
| Sunday | March 11 | @ Rockies | Salt River Fields | 1:10 p.m. |
| Monday | March 12 | Brewers | Glendale | 1:05 p.m. |
| Wednesday | March 14 | Rockies | Glendale | 7:05 p.m. |
| Thursday | March 15 | Royals | Glendale | 1:05 p.m. |
| Friday | March 16 | @ Diamondbacks | Salt River Fields | 1:10 p.m. |
| Saturday | March 17 | @ White Sox | Glendale | 1:05 p.m. |
| Sunday | March 18 | Padres | Glendale | 1:05 p.m. |
| Sunday | March 18 | @ Brewers | Maryvale | 1:05 p.m. |
| Monday | March 19 | Athletics | Glendale | 7:05 p.m. |
| Tuesday | March 20 | @ Athletics | Mesa | 1:05 p.m. |
| Thursday | March 22 | Angels | Glendale | 7:05 p.m. |
| Friday | March 23 | @ Royals | Surprise | 1:05 p.m. |
| Saturday | March 24 | White Sox | Glendale | 12:05 p.m. |
| Sunday | March 25 | @ Angels | Angel Stadium | 6:07 p.m. |
| Monday | March 26 | Angels | Dodger Stadium | 7:10 p.m. |
| Tuesday | March 27 | Angels | Dodger Stadium | 7:10 p.m. |