The Los Angeles Dodgers returned from their road trip with Julio Urías still on administrative leave and under investigation after getting arrested on suspicion of domestic violence, and with that came erasing his presence from Dodger Stadium.
Inside the Dodgers clubhouse, Urías' locker has been given to Kolten Wong, who just signed with the organization last month and joined the roster when it expanded to 28 players at the beginning of September.
"I think that was an organizational thing," Dodgers manager Dave Roberts said before Monday's game. "I actually found out about it five minutes ago. I didn't know. It's sad. It really is. It's sad on every level."
Roberts has not spoken with Urías since he was arrested outside BMO Stadium on September 3. Urías was among the several professional athletes and celebrities in attendance to watch Los Angeles Football Club (LAFC) play Lionel Messi and Inter Miami CF.
Roberts believes the Dodgers removing Urías' locker is indicative of the team looking to forge ahead as they inch closer to another National League West title and postseason run.
"I think that's kind of where we're at right now. There's really not much for me to comment on," he said. "Other than like I said the first day, this is a very, very unfortunate and sad situation."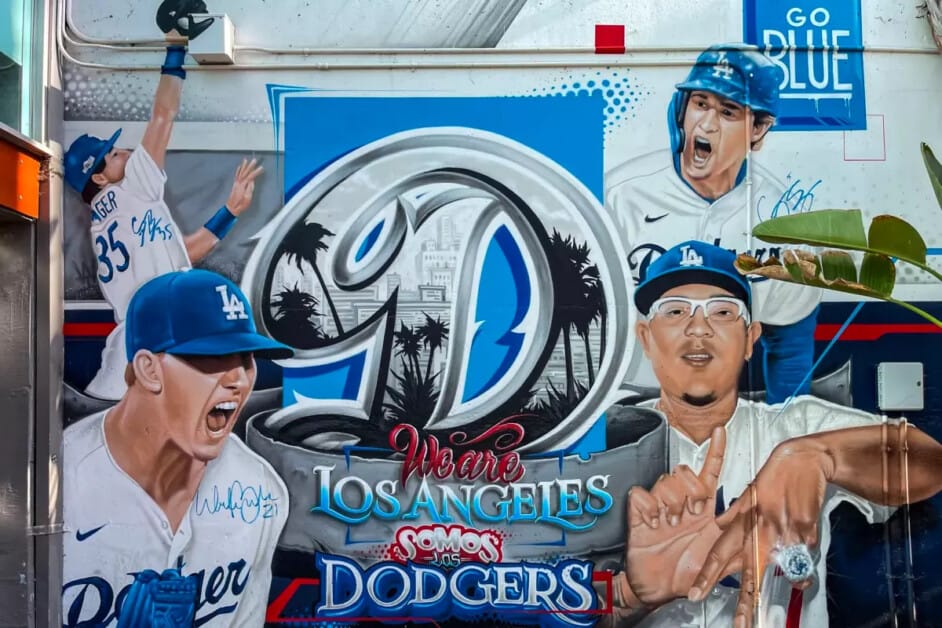 Also noticeably absent was Urías' presence in Dodger Stadium murals on the loge level. They were unveiled in 2021 to coincide with the Dodgers City Connect uniform launch.
Dodger Stadium murals on the loge level that featured Julio Urías are no longer visible, with one already painted over completely. His MLB Gold jersey (and all others) on the club level was taken down, and so was a painting in the Gold Glove Bar. pic.twitter.com/dnwsRAMo01

— Matthew Moreno (@Matthew__Moreno) September 12, 2023
The Dodger Stadium mural by the Nike retail store on loge in left field featured Cody Bellinger, Walker Buehler, Corey Seager and Urías depicted from memorable highlights of their 2020 World Series run. All four players were painted over and the wall is now a blank grey.
In right field, a sheet covered the mural of Mookie Betts, Clayton Kershaw and Urías. Still visible is Justin Turner's diving tag from the 2020 National League Championship Series.
In the Gold Glove Bar, a painting of Urías' celebrating the final out of the Dodgers' World Series win was removed from the wall.
Last week, the Dodgers removed the Urías World Baseball Classic bobblehead from their giveaways schedule. Jerseys, t-shirts and other merchandise bearing his name and No. 7 also were taken out of retail stores and stands.
Why did Dodgers remove Julio Urías locker?
While Urías has not yet been charged, his career with the Dodgers likely is over. MLB's investigation could extend beyond the 2023 season, and Urías is due to become a free agent this winter.
The Dodgers have denounced domestic violence in official statements on the matter, and aren't considered likely to re-sign Urías.
Urías has a court date set for September 27, according to his booking records.
Have you subscribed to the Dodger Blue YouTube channel? Be sure to ring the notification bell to watch player interviews, participate in shows and giveaways, and stay up to date on all Dodgers news and rumors!