The Los Angeles Dodgers snuck in a blockbuster trade just prior to the non-waiver deadline last Monday to acquire Yu Darvish from the Texas Rangers. The deal reverberated throughout baseball as the team with the best record and starting rotation ERA improved by adding a bonafide ace.
It was widely believed the Dodgers were a landing spot for Darvish if the Rangers followed through with trading the right-hander, however there was a perceived stumbling block on what their return would be. Texas reportedly wished for Walker Buehler or Alex Verdugo in exchange for Darvish.
For all intents and purposes, the Dodgers had Buehler and Verdugo as untouchable in trade talks. Ultimately, some patience and a package centered around Willie Calhoun were enough to entice the Rangers.
The trade marked the end of an era for Darvish and the Rangers. He agreed to a six-year, $60 million contract with the team in January 2012.
Darvish placed a full-page ad in The Dallas Morning News on Thursday to thank Rangers fans: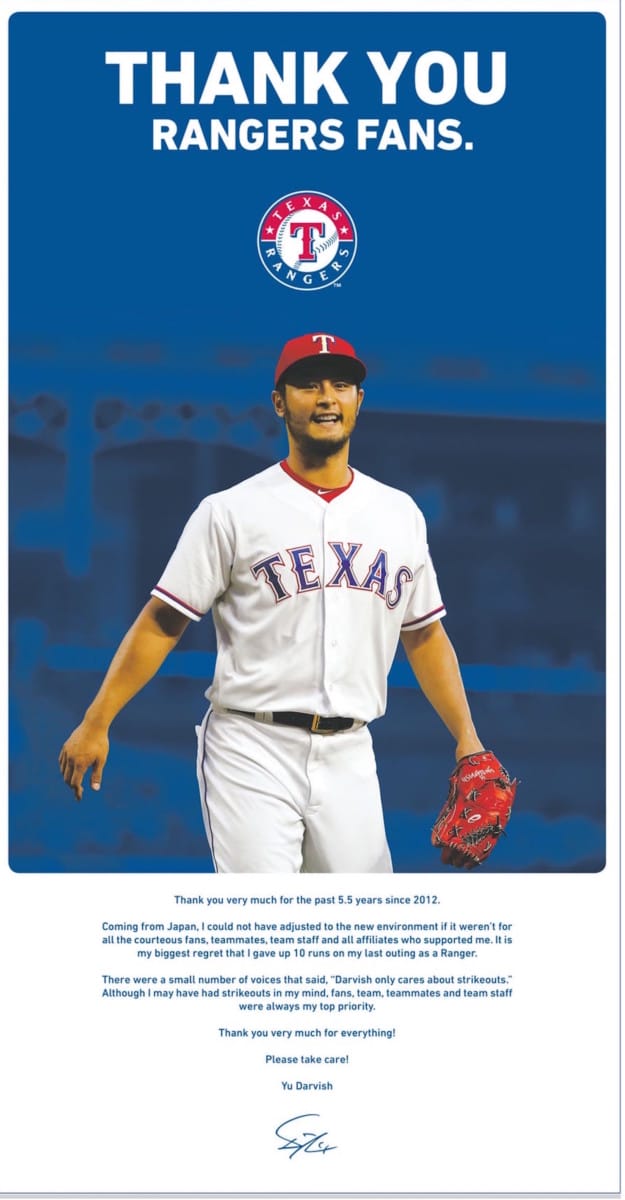 The kind gesture is similar to what Carlos Ruiz did last August when he purchased a billboard spot after getting traded by the Philadelphia Phillies to the Dodgers. Ruiz also left the Phillies a hand-written message in the clubhouse prior to departing.
During his five seasons with the Rangers, Darvish went 52-39 with a 3.42 ERA in 122 career starts. He missed the 2015 season due to Tommy John surgery, and was named an All-Star in each of his full seasons (2012, 2013, 2014, 2017).
Darvish threw a bullpen session at SunTrust Park on Wednesday and is scheduled to make his debut with the Dodgers on Friday night in the series opener against Jacob deGrom and the New York Mets at Citi Field.