Having previously released a series of "Game of Thrones" bobbleheads that incorporate MLB teams, FOCO has now partnered with Netflix to bring a "Stranger Things" line to life in conjunction with Season 3 premiering July 4.
Cody Bellinger and the Los Angeles Dodgers again are part of the limited-edition series. The officially licensed products depict MLB stars and mascots along with characters and settings from Netflix's award-winning original series.
All 30 MLB teams are represented in Series 1 of the release.
"We at FOCO are thrilled to team with Netflix to launch these unique MLB Stranger Things bobbleheads," said senior licensing manager Matthew Katz.
"We're excited to give fans new ways to express their team spirit straight from Hawkins, Indiana and the Upside Down, and we are sure fans everywhere will be excited to collect these one-of-a-kind bobbleheads."
Each bobblehead is handcrafted to depict a player, mascot or character to represent a crossover between MLB and "Stranger Things." Each bobblehead stands approximately eight inches tall.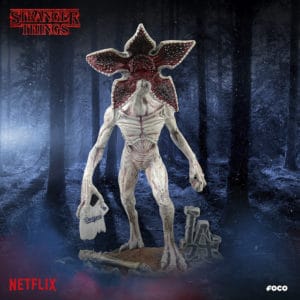 Series 1 features a Demogorgon bobblehead, which of course is modeled after the creature from the hit show. The Demogorgon is holding a baseball and ripped team jersey, and is on a base with a 3-D team logo plaque, miniature bat with nails and additional "Stranger Things" imagery.
Also included in Series 1 is a Mascot on Bike bobblehead, which shows a team mascot on a bicycle while wearing attire from the show. The bobblehead also includes Dart sitting on the mascot's shoulder, as well as a Hawkins, Ind., street sign.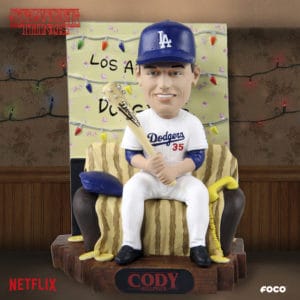 Lastly, an Alphabet Wall bobblehead, which available in the form of Bellinger, has an MLB star
holding a miniature baseball bat with nails while sitting on a couch in front of a backdrop portraying the distinguishable living room wall from the series.
Also part of their available memorabilia, FOCO designed "thematic" bobbleheads for select players. Bellinger is portrayed in a home-run swing, with Dodger Stadium serving as his backdrop and the team's logo displayed on the reverse side.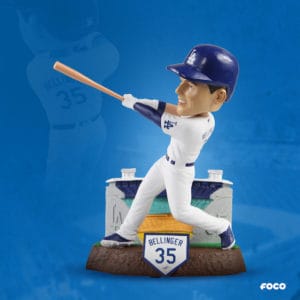 Bellinger has put together a tremendous first half of the 2019 MLB season, earning a second career selection to the All-Star Game. Though, he was voted in as a starter this year, which Bellinger said added extra meaning to being included on the National League roster.