After supporting 10 startup companies in their inaugural program last year, the Los Angeles Dodgers and R/GA pared the number in half for the second round in the Dodgers Sports Accelerator, which launched in August.
The fewer number of companies wasn't for lack of applications, with those increasing from 600 to nearly 700 after a successful first run. The five chosen were Greenfly, Keemotion, Renegade Brands, ShotTracker, and WSC Sports.
"We wanted to continue to focus our time, effort and energy as best we could," Dodgers chief financial officer Tucker Cain said.
"We also had a class that was a little further along the maturity schedule, which again, was deliberate. They're really ready and prepared to take advantage of the resources we put in front of them."
Four of the five companies are from outside California, with Greenfly the lone exception. They're headquartered in Santa Monica, Calif., and founded by former Dodgers outfielder Shawn Green.
Ahead of their mid-November graduation date, each startup took turns in the spotlight in front of investors, mentors and industry professionals during demo day, which was held at the downtown Los Angeles Cross Campus location.
In line with Cain's assessment of the companies being further ahead than the 2015 group, it was readily apparent the startups are driving innovation in the sports industry.
Greenfly
A platform used by companies, celebrities and influencers to create and distribute digital content, Greenfly prides itself on quality production with ease of use and anonymity.
"I would bet every single person in this room has seen many different videos produced on Greenfly," the company's CEO and co-founder Daniel Kirschner told the assembled group.
"For example, if you watched the season finale of The Voice, you saw Shaquille O'Neal making fun of Adam Levine for his lack of basketball skills. That was orchestrated, developed, filmed, produced, all behind the scenes on Greenfly."
Bleacher Report has utilized Greenfly, which has a back-end panel that can be accessed via desktop and a mobile app, to connect with professional athletes and have content created. UFC has more than 200 of its fighters using Greenfly, as well as celebrities and athletes who are fans of the sport.
Last week, Greenfly received more than $6 million in Series A funding.
Keemotion
With the advent of social media further feeding fans' desire to receive up-to-the-second score updates, stats, and other relevant information, Keemotion is setting out to solve demand for video.
Utilizing HD cameras and automated video production, Keemotion is able to stream live broadcasts of sporting events without the need of so much as a cameraman. The company's proprietary software seamlessly tracks the flow of a game, including zooming in and out, to produce a broadcast that rivals what's seen from sports networks.
A benefit to the streamlined production is lower cost, which CEO Milton Lee championed as being key to covering a wide array of sports.
In addition, Keemotion's technology serves as an option to archive games and practices; the Golden State Warriors and Villanova basketball are among Keemotion's current partners. The NBA D-League is utilizing Keemotion to develop an instant-replay system for referees.
Renegade Brands
"We're proud of your sweat. We want your sweat," CEO and founder of Renegade Brands, Cathy Horton, exclaimed. "We want your achievement and grit. We're happy to own it and wash it for you. We view sweat as a badge of honor."
Not to be confused with your run-of-the-mill laundry detergent, the Sweat X line of supplies is specifically engineered to meet the needs of today's performance sports apparel and gear. The Dodgers and USC Trojans football team are among the partners Horton converted to her products.
"They wanted to see if their life could be more efficient and safer by using less-toxic chemistries, and whether we could make their machine formulas better," Horton said of her introduction to the Dodgers' laundry room.
"We did all of that, and it was fun. … We took 12 products out of their laundry room and now they wash with one product."
Horton said USC would regularly throw out 20 pairs of football pants after each home game due to unremovable stains of fertilizer dye. That number is zero since the Trojans transitioned to using Sport X.
The line of products consists of odor spray, laundry detergent and a stain remover. Multiple NBA, NHL and NFL teams have joined Renegade in their revolutionizing of an industry that has lacked innovation.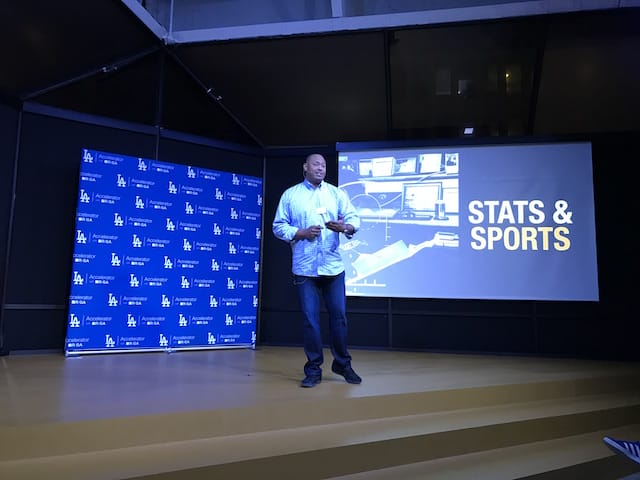 ShotTracker
The lone startup in the class that utilizes wearable technology, ShotTracker captures real-time statistics and analytics for its users. ShotTracker consists of three components — a shoe sensor in the form of a lace lock, ShotTracker-enabled basketball ball, and court sensors that hang in the rafters.
All three solutions "track player and ball in three-dimensional space providing real-time statistics," co-founder and COO Davyeon Ross said. "Imagine 18 players, 18 balls, six hoops, and we can still aggregate that data in real time."
Pricing for ShotTracker begins at $3,000 per team. Michigan State men's basketball coach Tom Izzo, Kentucky coach John Calipari and Kansas head coach John Calipari are among those who vouched for ShotTracker.
Former Los Angeles Lakers guard Magic Johnson and current Dodgers co-owner Magic Johnson and former NBA commissioner David Stern were part of an investment round in October.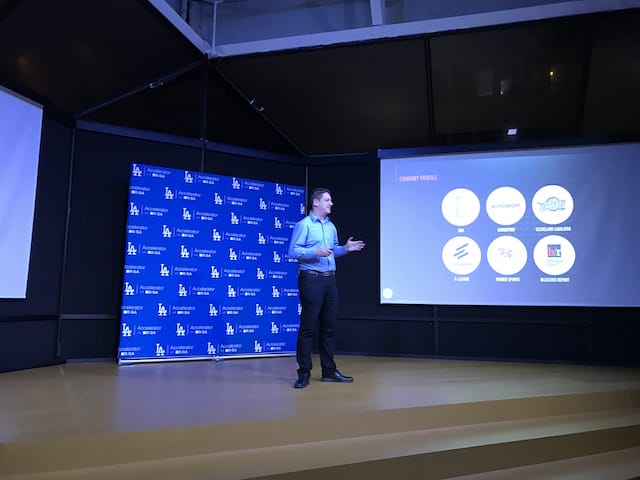 WSC Sports
Another video-based company, WSC Sports focuses on the customizable, automated creation of real-time highlights. The WSC platform is able to analyze and index a game feed and every play.
Users are able to preset qualifiers — from specific players to play types or a player's nationality — for videos that WSC Sports then packages and immediately distributes.
During the 2016 NBA Finals, WSC Sports provided clips to fans on request via the league's Facebook page.
---
With another accelerator program winding down, it won't be long until the Dodgers gear up for a third season. The goal is to provide leadership and opportunities for the startups selected, but there's a benefit for the franchise as well.
"It's thrilling, it's great," Cain said. "It's exciting to have the L.A. Dodgers brand, which we all know has been at the forefront of innovation throughout the history of sports — (breaking) the color barrier, bringing international players to the U.S., so to be continuing that is exciting."