Coming off their first appearance in the World Series since 1988, the Los Angeles Dodgers head into Opening Day of the 2018 season with further excitement and anticipation surrounding them. And although injuries have tempered some of it, that the season begins against the San Francisco Giants adds another layer of intrigue.
It's also played a role in the average price for Dodgers Opening Day tickets currently sitting at $262, per TicketIQ.com. That's good for a 20.2 percent increase over last season, and the third-most expensive Opening Day game at Dodger Stadium this decade.
The highest average ticket price for a Dodgers Opening Day game is $302, which was for the 2015 season. That's followed by a $275 average for the 2013 season opener, which marked the start of the franchise's current run of five consecutive National League West titles.
However, when compared to other prices for Opening Day games throughout the league, the Dodgers also have the third-cheapest ticket available, priced at $131.
Additionally, as the Dodgers head into the 2018 season, their $92 average ticket price is a 16.5 percent increase from last season. It's also good for the team's most expensive season since 2010. That mark was previously held in 2017, when ticket prices averaged $79 leading up to Opening Day.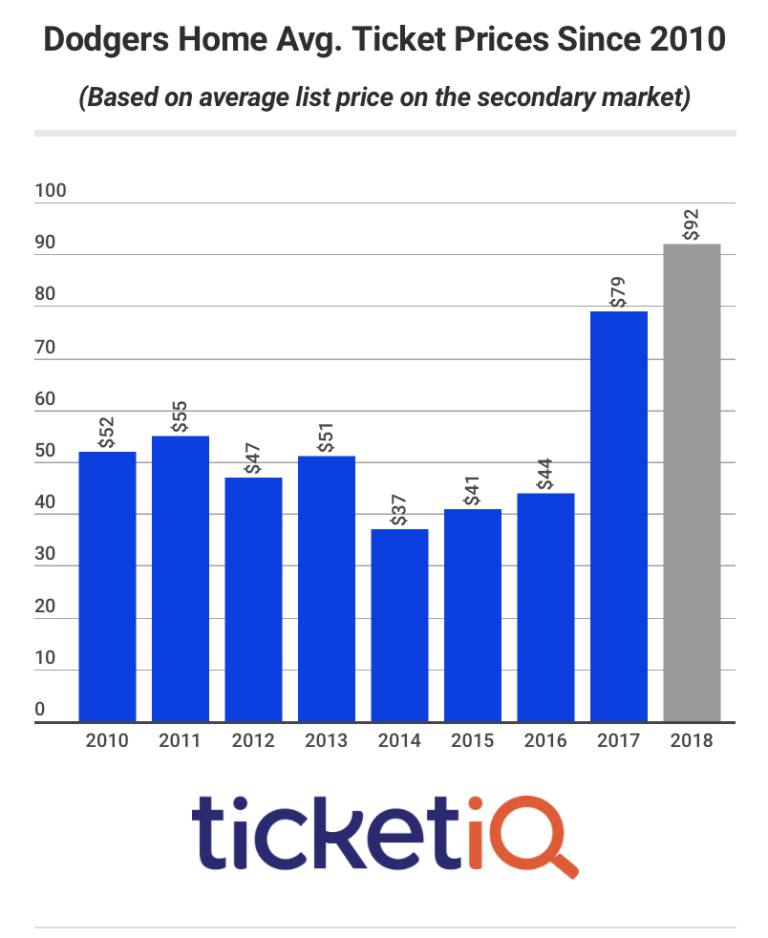 Regardless of ticket prices, the Dodgers figure to draw well again this season. They've reached 3 million in attendance at Dodger Stadium in each of the past six years, leading the Majors in that category for all but one season during that stretch.
For your Dodgers ticket needs, visit TicketIQ.com.