Dodger Stadium welcomes the Los Angeles Dodgers back from a 10-game road trip for the final homestand of the 2017 regular season. It begins Friday night with a three-game series against the San Francisco Giants, and is followed by three games with the San Diego Padres.
As has been the case throughout the year, the home games are accompanied with new food and drink items. During the weekend series with the Giants, the Dodgers are offering a "Brunch At The Park" dish.
It consists of a Kings Hawaiian bun dipped in French toast batter that is then stuffed with Farmer John's breakfast sausage and fresh berries, and topped with maple syrup and powdered sugar.
It will be available for purchase at Field sections 22 and 23, and Loge section 136. The savory item may be particularly enjoyable for those attending Sunday's 1:10 p.m. PT start.
Once the Padres roll into Dodger Stadium, the Dodgers will offer "Nacho Tots." Golden fried tater tots are topped with with carne asada, nacho cheese, pico de gallo and sour cream. They will be available at Field section 10, Loge section 136 and Reserve section 31.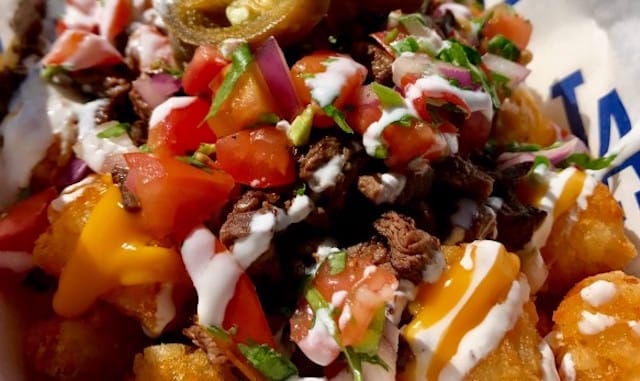 Wednesday's series and homestand finale is also Hispanic Heritage Night at Chavez Ravine. Accordingly, a "Spicy Rita" will be available for purchase throughout the stadium. The lemon lime margarita is rimmed with chili lime seasoning.