When the 2020 Los Angeles Dodgers promotional and giveaways calendar was unveiled, it consisted of 55 games at Dodger Stadium that will feature a promotion/giveaway or event, including a slew of bobblehead dates.
The first giveaway on the Dodgers' 2020 calendar is a Max Muncy bobblehead that will be distributed for the series finale against the San Francisco Giants on Saturday, March 28. It's one of 18 bobbleheads fans will have the opportunity to receive throughout the season.
As revealed by his wife Kellie on social media, Muncy's version depicts him pointing off in the distance with his left hand while in a home run trot. The gesture was taken from Muncy's confrontation with former San Francisco Giants pitcher Madison Bumgarner last season.
After Muncy connected on a deep drive into McCovey's Cove, he dropped his bat and admired the majestic flight of the ball before breaking into his job. That irritated Bumgarner, who shouted at Muncy and led to an exchange of words.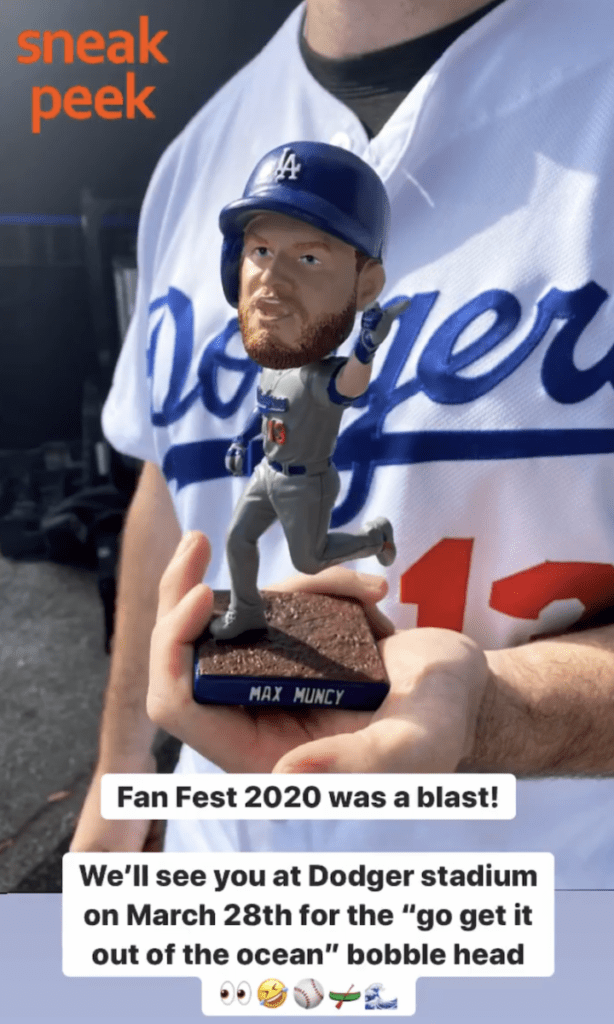 It was during Muncy's postgame interview with Alanna Rizzo on SportsNet LA that he revealed telling Bumgarner to, "go get it out of the ocean" if he took issue with the home run trot. The quip immediately took social media by storm and was used for t-shirts.
Muncy himself wore one during batting practice in an ensuing game, but otherwise attempted to laugh off the matter and downplay any lingering animosity with Bumgarner.
The fiery left-hander had been involved in several dust-ups with the Dodgers before, namely when Yasiel Puig was a member of the team. As for his confrontation with Muncy, Bumgarner reasoned he too should be permitted to express himself just as other players are encouraged to demonstrate personality.
The Dodgers also have a Cody Bellinger MVP bobblehead (March 30), plus one for Don Drysdale (April 11), Justin Turner (April 29), Fernando Valenzuela (May 5) and Walker Buehler (May 20), among others.
Have you subscribed to our YouTube channel? It's the best way to watch player interviews, exclusive coverage from events, participate in our live shows, and more!